BATIK PAINTING & INDIGO DYE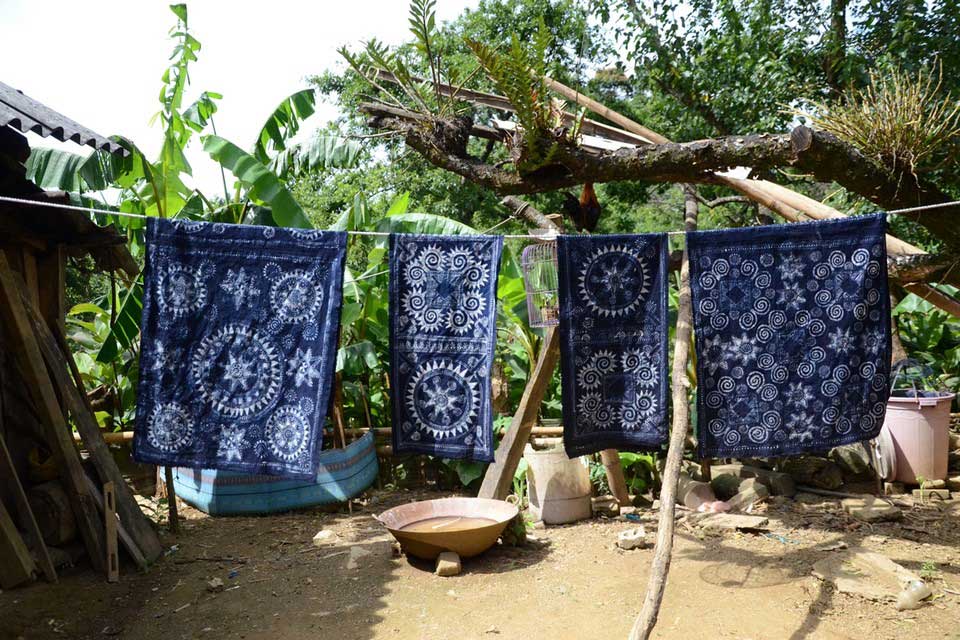 The Hmong are particularly skillful at batik. With batik, they are able to make multiple patterns on indigo backgrounds, such as snail designs, zigzags, and other meaningful patterns for skirts, pick-aback baby carriers, etc. It may be difficult to comprehend all the meanings of patterns but it is quite impressive to learn the meaningful stories behind each one. By listening the elder's explanations we can learn about their aspirations, understand their principles of the life, and view their perception of the universe.
How to make the fabrics:
Step 1: Beeswax painting on fabrics
The Hmong women take out small pieces of burning coals from her open-fire stove and buries in it a rustic tin can of beeswax. On top of the rattan basket that she uses to carry corn from the field, they place a wooden panel and lays on top of it a piece of woven hemp. With a canting, she dips its tip in the melted beeswax and sketch patterns on hemp fabric.
Step 2: Indigo dyeing
After the wax dries the hemp fabric is dyed in the indigo vat
Step 3: Immerse in hot water
Upon completion the fabric is immersed in hot water and lifted to find white hand-drawn patterns on indigo.
Step 4: Dry the fabrics